Cyber Monday Christmas tree deals 2021—last chance to get over 60% off in the sales
You'll find the best Cyber Monday Christmas tree deals right here, from retailers including Amazon, Wayfair, Walmart and Balsam Hill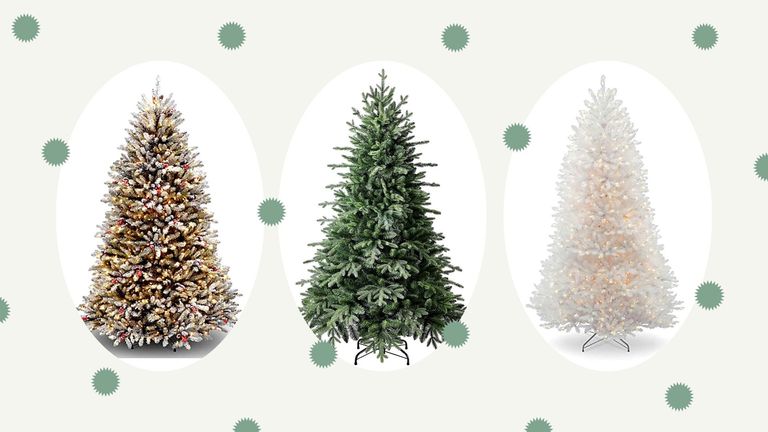 (Image credit: Future)
If you're looking for a festive tree for your home, the Cyber Monday Christmas tree deals and sale this year could be the perfect opportunity to buy one of the best artificial Christmas trees.
With the holiday season fast approaching, there's no better time to buy a tree for a bargain price. Though you'll have to shop locally for the best real Christmas trees, there have been some incredible deals on artificial trees across retailers this weekend—but many of the best Cyber Monday Christmas tree deals will be ending tonight, so you'll need to snap them up ASAP if you want a discount.
Currently, the best sales can be found Balsam Hill, Amazon, and Wayfair, as well as other retail giants, where shoppers can score up to 80% off best-sellers. To make it easier for you to shop these last chance deals, we've done the hard work and scoured the internet for the very best Cyber Monday Christmas tree deals to shop right now. But be quick!
Current Christmas tree deals in the U.S.
Best Cyber Monday Christmas tree deals in the U.S.
Current Christmas tree deals in the UK
Best Cyber Monday Christmas tree deals in the UK
When will the Cyber Monday Christmas tree deals end?
If last year is anything to go by, the best Christmas tree deals will start to disappear towards the end of Cyber Monday. This means that by midnight on Monday, in both the UK and the US, many of the above discounts will be no longer, and you'll instead need to pay full price. So if you spy a deal that takes your fancy today, we advise adding it to your basket ASAP!
Don't fret if you're not sure which one to get though. Many retailers, including Very in the UK, and Wayfair in the US, have added brand new deals today, on Cyber Monday—and we've showcased the very best of them above.
There likely won't be any more deals on Christmas trees before December 25, so this really is your last chance to bag a bargain on a festive essential.
What to look out for when choosing a tree
If you want a tree that looks as stylish as possible, an artificial tree is a good option. To help you choose the best one, look for a tree with a high tip count. The higher the tip count, the fuller the tree, and the more space for your Christmas tree decorating ideas.
One of the best things about artificial Christmas trees over real ones is that aesthetic-wise they generally boast perfect symmetry, looking good from all angles. Plus they're a lot neater and easier to maintain with no dropped needles on the floor.
You do get what you pay for when it comes to buying an artificial Christmas tree. It's worth spending the extra cash for a decent one that you'll use for years to come (it will help the environment if you re-use it, too) which is why it's a good idea snap up the Cyber Monday Christmas tree deals so you can get more bang for your buck.
Should I get a pre-lit Christmas tree?
When looking for the best Cyber Monday Christmas tree deals, a pre-lit tree can be a brilliant option. If you're worrying about how to decorate a Christmas tree, it's worth noting that pre-lit trees can be a great way to make yours look instantly chic without too much effort.
And, when it comes to pre-lit trees, keep in mind that it's worth investing in a slightly more expensive tree. Not only will these last longer and be used for many years to come, but the cheapest trees on the market tend to look cheap too, which you don't want in your living room every December. We think the best pre-lit trees to buy are the ones with a warm, golden glow to them, rather than colorful or bright white lights. This is because warm white lights with a golden glow will create a wonderful ambiance in the room, whereas bright white lights can be a little harsh.
Colorful lights are fun and if that's your style, go for it. But if you're unsure, opt for the simple, warm light pre-lit trees as you will never tire of them, they will go with all of your other Christmas decorating ideas and they will never go out of style.
An internationally published digital journalist and editor who specialises in SEO strategy and content production, Rachael has worked as a writer and editor for both news and lifestyle websites in the UK and abroad.
Rachael's published work covers a broad spectrum of topics and she has written about everything from the future of sustainable travel, to the impact of the coronavirus pandemic on the world we live in, to the psychology of colour.